Household debt balances were largely flat in the second quarter of this year, according to the Federal Reserve Bank of New York's Household Debt and Credit Report. Total indebtedness increased just $2 billion from Q1 2015. Foreclosures hit their lowest point in the 16-year history of the New York Fed's Consumer Credit Panel, a nationally representative sample drawn from anonymized Equifax credit data.
Auto loan originations reached a 10-year high in the second quarter, at $119 billion, supporting a $38 billion increase in the aggregate auto loan balance, which has now passed $1 trillion. The increase in auto loans also drove most of the $67 billion increase in non-housing debt balances. Credit card balances increased, by $19 billion, to $703 billion, while student loan balances remained flat. Mortgage balances and HELOC dropped by $55 billion and $11 billion, respectively.
There were $466 billion in new mortgage originations in the second quarter. Two new charts introduced in this quarter's report show that just under half of the Q2 strength in originations were driven by borrowers with credit scores over 780. By contrast, only 8 percent ($38 billion) of all new mortgages were originated by borrowers with credit scores below 660.
About 95,000 people had a new foreclosure notation added to their credit reports between April 1 and June 30, a new low in the 16-year history of the data. Overall new delinquency rates improved, continuing a trend that began in 2009. As of the end of the second quarter, 5.6 percent of outstanding debt was in some stage of delinquency.
"Persistently tight underwriting standards imply that new mortgages continue to be originated predominantly to the most creditworthy borrowers," says Wilbert van der Klaauw, Senior Vice President at the New York Fed. "The low rates of delinquency and new foreclosures reflect the higher quality of outstanding mortgage debt and improved economic conditions."
Household Debt and Credit Developments as of Q2 2015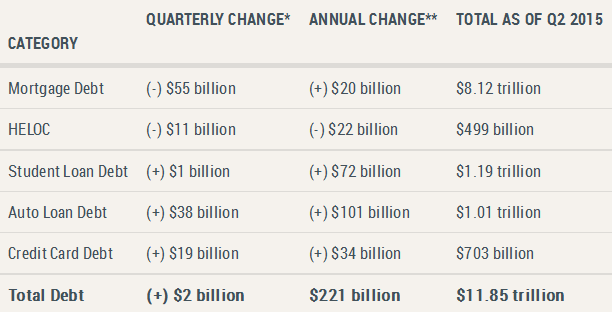 For more information, visit www.newyorkfed.org.