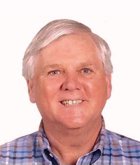 Rick Yelverton
Realtor® - Group DiNenna
Southern Lifestyle Properties
843-707-7878 or 828-674-7421
Originally from Pensacola, FL, Rick relocated to the Hilton Head area in 2011 after being a vacationer here since 1972. With is wife Marta, they left Hendersonville, NC after 30 years to get back near the beach.
Rick has been in the real estate, building, and development business since 1972 in Florida, North Carolina and South Carolina. He spent 25 years in on-site sales, most in Flat Rock, NC at Kenmure Country Club.
He enjoys golf and all of the University of Florida sports. He is the proud father of three adult sons and four wonderful grandchildren.
---