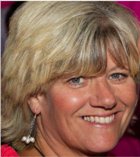 Karen DePace
Realtor®, Certified Negotiation Expert (CNE®)

Group DiNenna
Southern Lifestyle Properties
516-818-2131 or 843-415-1616
Originally from Long Island, New York, Karen relocated to the Hilton Head-Bluffton area in 2014 to be closer to her family.
Her niche for the real estate industry started long before she was a licensed agent. She bought, renovated and sold houses as well as general contracted a new home construction. Further, she renovated her home in Florida and currently manages it as a very profitable vacation rental property.
Karen combines the entrepreneur spirit of a business owner with over 20 years of laser focused customer service. In addition and most important, as the matriarch of a large family, Karen has a unique understanding of the complex needs and requirements of families looking for the perfect home. Her commitment to detail and willingness to go above and beyond, combined with her desire to exceed all of her client's expectations makes Karen your perfect partner as you search for that perfect home.
Awards
2016 Realtor Service Award
Affiliations
Nat'l Association of Realtors (NAR)
South Carolina Assoc of Realtors (SCAR)
Hilton Head Association of Realtors (HHAAOR)
Multiple Listing Service (MLS)
Testimonials
Karen is one of the best agents we have ever worked with, she went above and beyond necessary service for us. She is more than competent, she is extraordinary. She understood what we were looking for and was easy to communicate with and available to answer any questions we had. I would give her an A+ rating as an agent.
Regards,
- Maryann M
I agree with everything that my wife Maryann said in her email response. Karen maintained a personable level of patience and a sense of humor throughout the process.
Well done!
- Joe M
---
Our initial communication with Karen was over the phone during November 2017. At that time, we were exploring the possibility of relocating from the Cleveland, Ohio area to Bluffton sometime in 2019.
Although our moving timeline was quite long, Karen was very patient and helpful in educating us about the area.
We met with Karen in February 2018 in order to view several representative homes in different subdivisions. With her assistance, we narrowed the search down to The Haven.
Karen was readily available and cheerfully responded to our many phone calls and emails as we moved along in our search.
Chris and I came to the conclusion that we should buy sooner than later as the Bluffton real estate market was so robust. To that end, we listed and sold our home in Ohio and let Karen know that our timing to relocate had been moved up. Karen jumped right in and continued to vet and recommend homes that met our requirements. At short notice, Karen was ready to ferry us around homes as we made several short duration trips into the area.
Bottom line, Karen's assistance in speedily finding us the right home was indispensable.
- Mike & Chris Cash
---
Karen Depace just helped us sell our home in Bluffton SC. I can't tell you enough how much I appreciate everything Karen did along this process. She not only explained everything to us at our home, she made sure we understood completely all the steps through the selling process. If I ever needed her or had a problem she always took care of it right away. She even volunteered her youngest son to come help me with stuff around the house since my husband had already moved. I would recommend Karen to anyone looking to buy or sell their home, and if we ever decide to buy in Bluffton again she will be my first call. Karen truly cares about her customers and it shows.
- Lisa S
---
Karen helped us get our first Hilton Head property. It was a pleasure working with her as she was very professional and very informative. As we live in New York, Karen was very helpful throughout the buying and closing process. If anyone is looking for a Hilton Head property, we would definitely recommend working with Karen.
- Jay & Libby P.
---
My husband and I are investors and working with Karen to purchase a unit at The Breakers Villas in Hilton Head; it is our first Hilton Head investment and working with Karen has been awesome. She has helped to connect us quickly to financing, contractors, management companies and other needed resources within the HH community. We are scheduled to close the end of January and working remotely will be a new experience for us. Karen has been helpful throughout the process.
- Jennifer D.
---
We started working with Karen when we decided to purchase a second home in the HHI area. We had a one week window to find what we wanted in the price range we needed. Karen went over and above our expectations, spending a lot of time and doing copious amounts of research on all of the properties we looked into. She was in tune to all of our needs and made our experience much less stressful than I would have imagined. Since our decision on a property was actually made after we got home, she made the process of purchase and transfer a lot easier by being my advocate through the whole ordeal....Thank you, Karen... couldn't have done it without you
- Deb I.
---
My fiance and I were first-time home buyers and the idea of the process wasn't just exciting, it was very scary. Karen helped us out every step of the way! She was there for us whenever we didn't understand something or any questions (which we had a million of) we had to ask. Making finding the perfect home stress free. We couldn't have done it without her. Thank you for all of your guidance Karen!
- Cindee D.
---
Karen DePace helped us fulfill a life dream. I contacted Karen because I was impressed with her profile after reviewing the local Real Estate agents. Karen was wonderful to work with! When I told her what we were looking for, she went above and beyond our expectations! Karen not only helped us find the Perfect Ocean Front Condo, she also became a Great Friend!
- Carolyn F.
---
After 30 years coming to Hilton Head, Lin and I decided it was time to buy. But we live in Jersey, how do we find our dream property. Added to that we wanted an investment property to help offset the expenses. In stepped Karen DePace from Southern Lifestyle Properties. Not only did Karen help us find the perfect spot, she turned us on to a property management company to help with the rentals. When we wanted to do some upgrades, Karen recommended a contractor. Karen's customer service is awesome. She is only a cell, text or phone call away. Straight forward, knowledge of the island real estate and she treats you like a friend, not just a customer. One example of her work ethic was the day our patio furniture was delivered several days before we were coming to Hilton Head. A quick phone to Karen and she stopped by the property and lugged 5 boxes of furniture off the front porch and into the house. For an out of town buyer, Karen is your answer. Thanks, Karen, for making this journey a success.
- Lew & Lin C.
---
Karen is the ideal realtor. She is knowledgeable, experienced, easy going, patient, and professional. We began our house hunting in Sea Pines, and like many others before us kept moving up the island until we found our "forever home" in Port Royal Plantation, Hilton Head. But before we found it, we traveled six hours from North Carolina on three separate occasions to examine potential homes identified by Karen. She quickly understood our expectations and identified only prospective homes that fit us and spared us wasting time on ill-suited houses. When we finally decided to make an offer on a house, Karen guided us through the offer and inspection. And on finding a substantial defect during the inspection, advised us to walk away, despite losing her commission. In a few short weeks, she found our "forever home." Karen was with us every step during the final transactions, often reminding us to submit some paper, pointing out potential problems in draft contracts, and recommending solutions. We were very pleased with Karen, her professionalism, and our new home.
- Cynthia R.
---